Clicks Online
Increase Your Revenue with an Award-Winning SEO Company
Custom SEO Services , PPC Management And Internet Marketing Services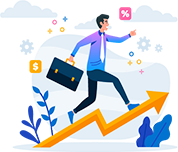 Search Engine Optimization
Search Engine Optimization (SEO) strategies and tactics that will increase organic search visibility on Google, generating leads, sales, and revenue.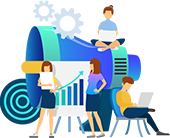 SEO Consulting
Our team will keep you and your business updated on the newest, most effective SEO services and strategies to dominate your market.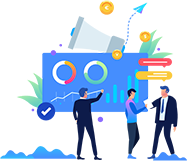 Keyword Ranking
We'll deliver you detailed benchmark reports with existing keyword rankings and historical, organic search traffic and help you boost your rankings.

SEARCH ENGINE OPTIMIZATION
Professional SEO services are perfected from 25+ years of experience, ensuring sites of all sizes will achieve higher rankings on Google and other search engines.

PAY-PER-CLICK ADVERTISING
PPC Advertising and PPC Management is personally tailored to your business, including paid search methods that will achieve growth and ROI.

MOBILE OPTIMIZATION
Clicks Online provides expert mobile optimization with responsive web design, ad targeting, and improved organic, local, national, and international visibility.

SOCIAL MEDIA MANAGEMENT
Clicks Online will manage your social media profiles on various platforms. Our team is driven to create results in higher impressions, audience growth, traction, and increase overall online presence.

REPUTATION MANAGEMENT
Control what the public views about your business. Clicks Online will proactively monitor and migrate all social media content, search results, and more.

ECOMMERCE & WEB DEVELOPMENT
Draw in high-converting leads with responsive web designs. Our team has extensive experience in WordPress, Shopify, Magento, Drupal and various languages.
Check Out Some Clients Reviews
There are many variations of lorem passages of available, but the majority have suffered.
We just wanted to take this opportunity to thank you all at Clicks Online. for your hard work and determination in getting outstanding results with our website. Taking us from the 50th page on Google to the 2nd is no small achievement

"Clicks Online. uses flexible, intelligent tactics to target both franchisees and consumers. The team stands apart for their dependable communication, expert advice, and commitment to long-term success."